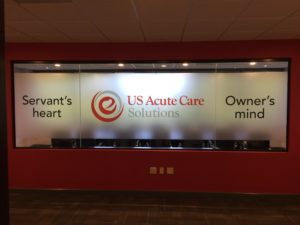 Are you the marketing coordinator for a hospital or other medical facility?
Are you searching for marketing and branding solutions, including possibly window graphics or lobby signs?
This article features our client Acute Care, a hospital and medical solutions company who is part of nationwide network. Their Tampa location called us because they were looking for a company who could help them with a branding solution for a large window that they have in their lobby area. If you take a quick look at the picture in this article, you can see an example of the window and the window graphics that we installed.
This window separates their lobby area from a meeting room, so they wanted to have window graphics installed that would help create privacy between the two rooms, as well as include their branding and marketing messages.
We have experience working with hospitals and medical facilities with branding and signage solutions. We understand how important it is for you to have a professional look and branding that will impress new patients and potential patients. Hospitals operate just like every other business when it comes to marketing and branding, so we like to let new customers know that we are familiar working with the industry.
Part of working with hospitals is understanding that each hospital operates under a different budget. Our extensive knowledge and familiarity with hundreds of different sign products enables us to be able to design highly impactful sign solutions no matter what budget we are operating within.
Written by: Signs Insight