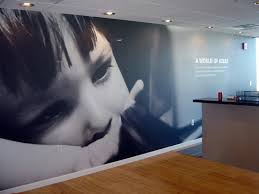 Product: graphic wall coverings
Location: Tampa Bay, Florida
Client: Signs Insight
Give your business the marketing tools that it deserves! Graphic wall coverings are an interior form of signage that offers high impact results. These graphics aid your business in leaving a memorable first impression with an eye-catching and descriptive form of advertisement. You will find that graphic wall coverings offer your company a wider range of exposure through the marks it makes on prospective customers minds. At Sign Insight, we will provide your business with a graphic wall covering that displays your company at its full potential!
We have an expert design team on hand that will aid in the development of your graphic wall covering to ensure that you are rewarded with a product that compliments your business's location, setting, aesthetic, and brand. Choose from a variety of images, styles, cohesive color combinations, and stylized fonts. It is promised that your final sign investment will be the perfect fit for your business! The installation of graphic wall coverings has made a huge change! It is no longer a vinyl medium mounted without adhesive. We now utilize a variety of mediums printed with low VOC latex inks, and adhered with wall paper paste for a firmer installation, durability and greater longevity. The new inks that we use offer quicker dry times, and require no off gassing of harmful chemicals. It is a safer, and more environmentally friendly option!
In the image above you will see an example of an exceptional graphic wall covering advertising the results of digital imaging. This graphic is vibrant in color choice, and gives a bold visual appearance that will leave its imprint with its intended audience. In the image below, there is an example of a business marketing their company through a graphic wall covering. The graphic is beautiful, and expressive to the aesthetic of the company it is advertising.
At Signs Insight, we provide high resolution graphics that can include your business's information, slogan, or logo. We utilize only the highest quality of materials, and the latest in printing technology and techniques to guarantee you a product that delivers you the exposure you deserve! Our graphics are printed with an exceptional color gamut to give you a graphic that is vibrant, eye-catching, and effective as a durable advertisement tool. We are a full-service custom sign and graphics company that specializes in providing our clients with a superior standard of both products and service. Allow us the opportunity to share with you all the benefits your business could receive with a graphic wall covering today!
Do you have questions about wall coverings? Would you like to hear more about our other products and services? Contact us today, and we will get you started on your signage journey!