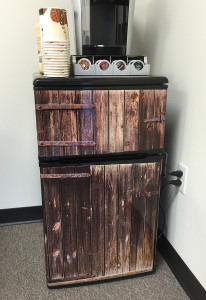 Product: Wraps
Location: City of Thonotosassa, FL in the Tampa Bay area.
Client: Signs Insight
The most common form of wrap printing is done for vehicles. Mobile marketing is a great tool to reach new audiences with every drive, and broadcast your business, brand, and services to your entire community. Many people are aware of the huge benefits available with custom vehicle wraps. What a lot of people don't know is the equally rewarding benefits of wrapping other potential marketing tools!Wraps are one of the most universally productive advertising options in the sign industry today! They offer the opportunity to completely customize your product, utilize crisp and high resolution images, and they can be printed to fit any size or shape.
Wraps are able to be mounted on many surfaces including but not limited to musical instruments, pinball and gaming machines, boats, outboard motors, bathroom stall doors, and even appliances. There are no limits to the mediums able to have wraps attached. This can be a way to advertise your business, event, band, school, or just to create a lasting visual image for everyone to see! Many forms of marketing require frequent payments like a billboard. You can promote your business's information, brand, and services with just a one time sign investment that will pay for itself many times over with a custom wrap!
Wraps have the power to take an ordinary object, and turn it into a powerful marketing tool. Office appliances, equipment, counters, walls, and vehicles can all work on gaining your business the exposure it deserves. As you can see in the photo above, with the right high impact graphics, your wrap can grab attention and keep it!
When you are looking for a company that is invested in your business's marketing success, look no further than Signs Insight! Our team produces high end products, and supplies superior standards of service for our clients. We utilize the best design concepts, equipment, and materials to make your custom sign or graphic package as effective as possible! We are located in Thonotosassa, FL, and we service the entire Tampa Bay area. Come into our showroom to see your options today!
Do you have any questions about wraps? Would you like to learn more about these and other products available from Signs Insight? Call us at (813) 523-3128, and we will get you started!