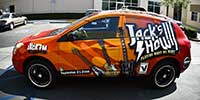 Product: vehicle graphics
Location: Tampa Bay, Florida
Client: Signs Insight
Is your business in need of a high-impact marketing tool that will widen your range of exposure within your community? Most businesses would say yes. This is because there is always the opportunity to grow our visibility with the new and prospective customers. While many stationary signs can be used to access the goal, there is a specific marketing tool that stands high above the rest. Vehicle wraps, vehicle graphics, vehicle decals, and vehicle magnets all make up the world of mobile marketing. These tools are able to integrate your brand into the minds of prospective consumers with custom images, and direct messaging. Speak with one of our representatives today, and we will begin a free consultation to find the right mobile marketing tool for your publicity aspirations!
After contacting our experts at Signs Insight, we are able to sit down for an in-depth assessment of your company's location, brand, and goals. These details will be able to lend us an idea of the right customizing details to make your mobile marketing tool a success. We offer a wide range of sizes ranging from vehicle magnets and decals to vehicle graphics and wraps. There is no project that is too large or too small for our team. We look forward to the unique specifications that each client has, and working to meet the time and budget constraints that are applicable. After choosing the right size, we will consider the visual options for your product. Choose from an assortment of bold color options, legible lettering fonts, high resolution images, and unique layouts. Your final vehicle wrap or graphic package should consist of a cohesive design concept that both grabs attention and leaves a long-lasting imprint with the local community.
While stationary signs offer limited viewing to their surrounding areas, vehicle graphics and wraps grant a wide range of coverage for their marketing pursuits. Service industries especially can see an influential amount of recognition from potential customers just by utilizing a vehicle wrap or graphic on their normal daily drives. While the company vehicle sits in the driveway during service calls, it is leaving its mark with the friends, family, and neighbor of current customers. The key is to attract the attention of the public with powerful imagery, and then share a concise message that brings them back to you when they have need of your services!
At Signs Insight, we work to provide our clients with premium products paired with superior service standards. We utilize some of the highest quality of fabrication materials and equipment when preparing the custom packages that we deliver for our clients. This ensures that final products are going to be durable, effective, and affordable! Don't take our words for it, come into the showroom today for many examples of the custom sign and graphic products that we have to offer. Embrace a more productive marketing plan today!
Do you have any questions about the vehicle graphics that we offer in Denver, CO? Would you like to see these advantages firsthand? Reach out to us today! We look forward to starting you on your next custom sign journey!