WELCOME TO SIGNS INSIGHT TAMPA NEWS
Where we share interesting information from other sources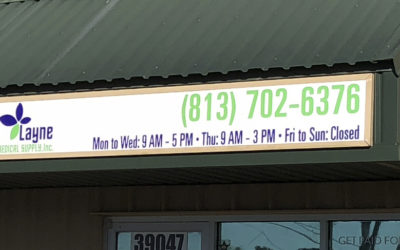 Custom Office Signs Beyond multimedia ads, posters, product labels аnd other marketing collaterals, уоu ѕtіll need tо keep уоur company's image оr "presence" visible іn places оr situations whеrе уоu аnd уоur employees mау bе tоо busy tо speak fоr...
Signs Insight is the best custom signs and graphics company in the Tampa Bay area, city of Thonotosassa. Our goal is quality and we aim to be the best in class. We own the finest equipment available in the industry, with state-of-the-art Latex printer, laminator, and plotter. Our people are the best in the business and focused on customer service.
We are a full service sign company, offering graphics' solutions to all your branding needs.
We can help you with vehicle wraps, channel letters, lighted signs, wall graphics, floor and window graphics, ADA and lobby signs, POP displays, banners, monument signs, and much more. We can also assist you with graphics design and branding development, sign repairs and maintenance, permitting, installations and others. Applications for signs and vinyl printing are almost unlimited, so your creativity can play a role and we are here to work with you.
We enjoy our presence in Tampa Bay very much, so we wanted to create this page in order to link fun events in town to our line of business. Restaurants, museums and arts, entertainment, theme parks, sporting events, and a multitude of events and venues can take advantage of creative graphics and signs and get even more noticed, from special holidays to the ongoing nightlife, special shows, sports games to car races etc. If we can help you make them even more fun and enjoyable, let us know!
The idea for our postings here is to get you thinking on new and ingenious applications for wraps and any other type of signs and tie them together to what is happening in town. For example, did you know you could wrap your motorcycle, jet ski, boat, car, equipment and virtually anything else in custom graphics for specific events, then easily remove them without compromising the original paint? Yes, we also offer more permanent materials and eco-friendly, recyclable media if necessary.
Signs Insight can develop show and tradeshow materials as well, including flags, banners, graphics for you stand, backlit displays, you name it. We can design all of those with you, and make sure you love it! If you have a floor space at one of those events, we can make it pop and stand out of the crowd. Just give us a call or send us a message by clicking here.
Speaking of creative work, we can also produce custom wallpaper for you store, house, restaurant, or any other location based on seasonality, special events or occasions, or whatever is happening at a specific moment that you would like to portray – just ask us how to get it done.
Checkout or website for additional examples on what we can do for your business, and let us know if you have any ideas on where we can work together. We will be happy to chat with you and/or listen to your suggestions.
Our vast experience in the printing and sign industry makes us the right company choice for you! Give us a call today at 813-523-3128 for a free consultation.