Product: Mural
Location: Tampa, FL
Client: Entrepreneur Collaborative Center (ECC)
When you think of a wall mural, you might be picturing in your head a huge photo of a rainforest scene that was taken in the Amazon, covering the space of an entire wall. You might also think of the side of a brick building somewhere in Brooklyn, New York covered in colorful graffiti that was done by some local street artists. Not all wall murals have to be photos covering up the entire length and width of a wall and they also do not always have to be photos. The type of mural that the Entrepreneur Collaborative Center in Tampa, Florida reached out to us to design for them wasn't a tropical picture taken by some famous photographer and it didn't involve any spray paint, or any paint at all. We teamed up with the ECC to come up with a series of inspirational quotes done in different styles of lettering to fill up some of the blank wall space.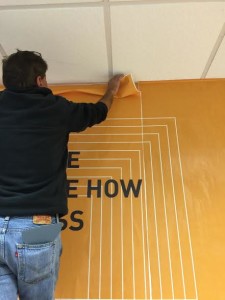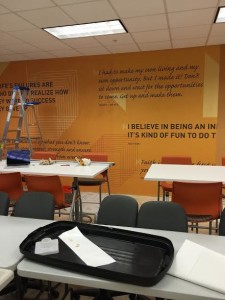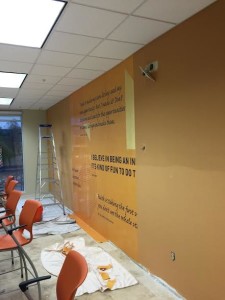 If you are an avid social media user, whether it be Instagram, Facebook, Twitter, or any other outlet that allows you to post and share photos, then you have probably seen a ton of pictures circulating all over these platforms with various quotes from different motivational speakers, inspirational leaders, and celebrities. Located right in downtown Tampa in historic Ybor City is the Entrepreneur Collaborative Center which is a place one would go to for entrepreneurial resources, information, and even mentoring. They have several conference rooms in which they use for different types of networking and business events. In one of these conference rooms, we teamed up to put together a mural of quotes from past celebrities that also in some way had links to Florida.
This particular conference room located within the Entrepreneur Collaborative Center is now a place where you will instantly feel inspired as soon as you sit down and read some of the different inspirational quotes. "Whether you think you can or you think you can't, you're right" is a famous quote by the late American industrialist and founder of the Ford Motor Company, Henry Ford. After coming up with a few more inspiring quotes and some various designs, we put together the mural in large sheets to be adhered to the wall so that there is no chance of the lettering peeling off of the wall.
Rather than just plastering up these quotes to the wall in Times New Roman font, we decided to go with all different types of lettering to make the wall stand out and be eye catching. The wall itself was first painted in different shades of orange. Before laying down the lettering onto the wall, we decided to add in some various shapes to give a little bit of added dimension to the space, making it flow more like a mural. When it came to the lettering, we used various fonts and sizes to make each quote stand out so that each individual message spoke its very own inspiration and motivation while still tying into the rest of them to serve as one inspirational piece.
Call us at Signs Insight to chat about your projectL 813-523-3128