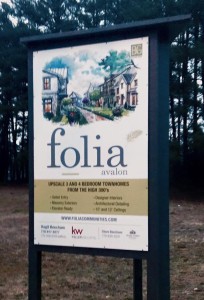 Product: Real Estate Development Sign
Location: Atlanta, GA
Client: Beecham Group
Today, we all live in an ever-changing, evolving world that seems to get more and more technologically advanced by the nanosecond. Just a couple of decades ago, if you were looking into a product or service, it would have taken hours of research, driving around to different locations just to go and ask the staff questions about the products you were seeking. Do you remember that huge yellow phone book that got dropped off on the front porch each month? It was filled with every phone number of individuals and businesses in your specific area code. Back in those days, I thought everything in alphabetical order was super helpful. Now in the present, it's pretty safe to say that you can find out anything you need to know in under a minute as long as your smartphone is somewhat charged.
As a growing business of our own, it is that much more important to be as accessible to as many consumers as possible. At Signs Insight, we build relationships with many of our clients through our website. There you will find just about everything you need to know about what it is that we do and are happy to assist our clients with. With so many different ways to advertise your company today in this vast industry where you are guaranteed to see advertising for all types of businesses, social media, and just about every type of industry that offers a product or service, the company you end up choosing to help you with all of your signage, designs, and placement of marketing tools will make all the difference.
The Beecham Group of Atlanta, Georgia made a great informed decision when they decided to contact the skilled design team at Signs Insight. Beecham Group is a reputable custom home construction company that had a new development project underway and needed a professional, sleek looking sign made to stand confidently in front of their newest complex of luxury townhomes. We came together to come up with a beautiful post sign, complete with a color photo on top, a list of the property's most desired features, and the company's contact information to welcome guests, tenants, and potential buyers
In this extremely modernized time period where you have the answers to just about all of your general questions right at your fingertips, it's easier than ever to go onto any search engine and ask something like "Which Atlanta restaurant makes the best southern fried chicken?" Rather than having to get out your handy magnifying glass and rifle through the yellow pages of the phone book with all that fine print, your search engine will quickly answer you with a small list of the closest and highest rated options to fit your needs. When it comes to choosing a company to help you with all of your advertising needs, you want to find the team who is also trusted by many other reputable companies and continuously demonstrate excellent customer service and a superior quality of work. At Signs Insight, we have a wide range of products and services that we guarantee will satisfy our clients as well as yours.
Call us at Sign Insight to discuss your Real Estate sign needs: 813-523-3128. We are located in Tampa, FL.