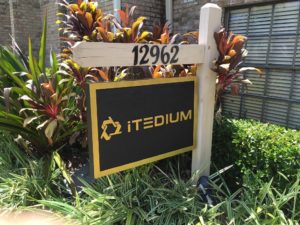 In this article we are taking a quick look at the sign that we made for a client of ours in Tampa, Florida. This company is called Itedium, and it was a pleasure working with them. Before getting started, we want to point out that we offer free quotes to any business that would like one. We would be more than happy to sit down with you and discuss your marketing goals and put together a sign package within your budget.
To make the sign pictured in this article, we used a high density urethane (HDU) foam material. It is lightweight and durable and can be cut to all sorts of custom shapes and designs. After sandblasting the HDU foam material we applied the paint. In this case it was a black background with gold metallic painted lettering.
This type of hanging sign, or post sign, is often seen in real estate as well as with other industries like dental offices and doctors' offices.  And it's a great outdoor sign product for a few reasons.
Durability
Since this is an outdoor sign, it has to be made from high quality materials that will last a long time. One of the most important steps in protecting an outdoor sign is having a paint or over-laminate that rejects the ultraviolet rays in the sun which cause fading and damage.
Two-Way
Another feature of this type of sign is the fact that it is two-sided and can be seen coming from two different directions. If you have traffic traveling from two directions in front of your business, it's important to have a two-way sign.
Written by: Signs Insight