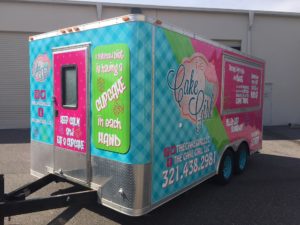 Are you searching the Tampa, Florida area for a local company to design and install custom vehicle graphics?
At Signs Insight, we're a full-service custom sign and graphic design company that offers custom signage products of all kinds, including vehicle graphics. From magnetic graphics and window decals, to partial and full body wraps, we can help transform any vehicle into a mobile marketing machine.
If you take a quick look at the pictures in this article you'll see a recent project that we did for The Cake Girl, a local mobile food trailer in the Tampa area.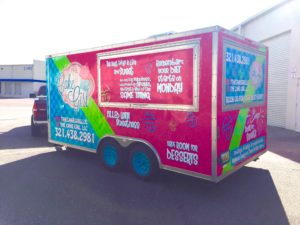 The first step in our process is having a conversation with our customer to find out a little bit about their business goals and what they would like to accomplish with their vehicle graphics. Are we promoting a special event? Are we installing everyday vehicle wraps for work trucks and work vans so they can help market the business? It's always important to define the purpose and goals of every marketing project.
The next step is to create a mockup of what the vehicle will look like before graphics have been installed. Our design team creates a very realistic mockup image for our client to see and review before we go to fabrication.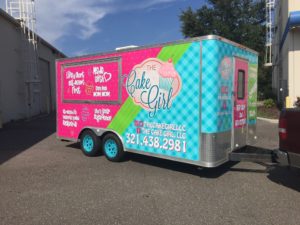 In order to make sure that the graphics are installed properly on the vehicle, we use a template based on the vehicle's year make and model, to ensure that the layout will match perfectly with the vehicle's contours and shape.
After applying vinyl graphics to the vehicle, we add an extra protective layer that helps to prevent damage and increase the durability and lifespan of the graphics.
You have any questions about vehicle graphics, or any other kind of sign product, we would be more than happy to help.
Written by: Signs Insight