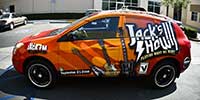 Product: vehicle wrap
Location: Tampa Bay Area, city of Thonotasassa, Florida
Client: Signs Insight
By making lasting impressions and drawing in prospective consumers, you ensure your company's growth. Mobile marketing is one of the fastest growing forms of advertisement, as it shows the results businesses are looking for! While providing the services you normally would, your fleet is working on establishing connections with those who may need your services in the future. It is an investment that pays for itself over and over again. Unlike reoccurring payments needed to keep your business advertising with billboards or paper advertisements, vehicle wraps are a one time investment that will continue to product results. It is an investment that pays for itself over and over again!
There are a multitude of customizing options available with vehicle graphics and wraps from Signs Insight. You can choose first the location. We offer both side and back graphics for viewing in any direction. Next is the option of image. You can go with your company's logo, brand, theme or even allow us to come up with something that fits your business's feel. Other things to consider are whether you want temporary graphics with magnetic installation, or a long term wrap feature. The choices are yours, and at Signs Insight, we have experts on hand to help you along the way.
In the image above you will see an example of high impact visual marketing with a custom vehicle wrap. It is a full-body graphic that showcases pleasing aesthetics, and direct information about the business advertised. Below is another example of a vehicle graphic for a company vehicle. It is direct in its intended information, and precise with its bold lettering. Both are great assets to any company!
Our mission is to insure that our clients have a custom graphic's package that allows them to fully meet their marketing goals and potential. At Signs Insight, we are a full-service custom sign and graphics company that specializes in providing a higher standard of service at an affordable rate. We are located in Thonotasassa, FL, and we service the surrounding areas. Allow us the opportunity to share all the benefits available to your company with a personalized vehicle wrap from Signs Insight!
Do you have any questions about the vehicle wraps and graphics that we have to offer your company? Would you like to hear about our other products and services? Contact us today at (813) 523-3128, and we will share all the ways a custom graphics package can benefit your company!