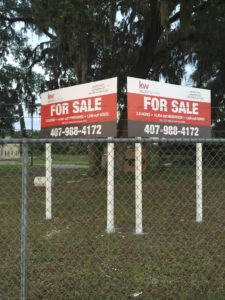 Are you a commercial real estate agent or broker?
Are you looking for a local sign company to design, fabricate and/or install commercial real estate signs for a particular property that you are marketing?
Recently, we received a call from Keller Williams Realty in Tampa, Florida. They were looking for a company to make a couple signs to market one of their commercial real estate properties. If you take a look at the pictures in this article, you can see the signs that we made for them.
One of the signs that we made is a simple 'FOR SALE' banner.  These types of banners are a great way to mark a large property with a for sale sign because they are large, inexpensive and easy to read. A red background with white lettering is a classic color combination used in signage for many different applications. Of course, a stop sign might be one of the more com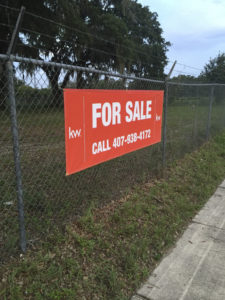 mon ones that you see on a daily basis. But, the main reason that this combination is used is because of legibility. It is easy to read from a great distance.
The other sign that we made for Keller Williams was a combination post and panel sign. Sometimes these are referred to as 'V signs' because of how the two signs are positioned next to each other on a 90° angle. This makes it so that the signs can be seen from whichever direction someone is coming.  Technically, these are individual post and panel signs, that feature two posts and one panel mounted to the posts.
If you have any questions about the signs that we made for Keller Williams, or have any questions about any other types of signs for your business, we would be happy to help.
Written by: Signs Insight