Product: Custom Graphics Wrap
Location: Tampa, FL
Client: eSmart Recycling
When you have a business that allows you to be creative in every project that you take on, every now and then you will get requests that are more outside of the box. We were recently contacted by the best IT recycling company to design graphics for a couple of recycling bins. Having done a huge number of graphics for different types of vehicles, even boats, we couldn't wait to come up with a cool wrap design using special vinyl for low-energy plastic materials.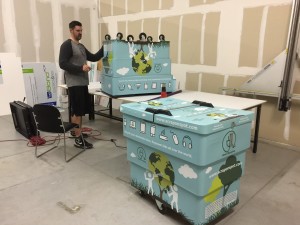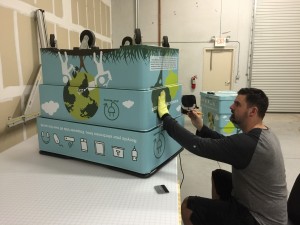 Have you ever thought that it might be fun to decorate your recycle bin? Lucky for us, we get to do neat projects like this, professionally. The photos show a couple of nice recycling bins that we turned into more of an empowering statement for eSmart Recycling. These bins in particular were designed for a special project, where the company will collect electronics to be recycled and given back to the local community by donating equipment for state-of-the-art tech labs for underserved kids.
Despite these being standard recycling bins, the new wraps we placed on them now share an amazing message.
A major benefit to custom graphics is just spreading your message to a wider range of people, whatever that may be. They also make for a great way to promote your business or spread awareness to any subject, project, or fundraiser that you are working on.
If you are looking for any type of custom graphics or signs, you've come to the right place. We are a full service custom graphics and sign company and offer a wide range of products and services. Using the best quality products the industry has to offer, we are confident that we can suit your needs. Just visit our location in the Tampa Bay area or give us a call at (813) 523-3128 so we can show you why we are proud to be your custom signs and graphics solution!
Written by: Signs Insight