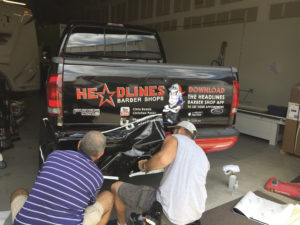 Do you own a business?
Vehicle wraps and graphics are one of the most cost-effective ways you can advertise just about any business – and definitely for a barbershop or hair salon.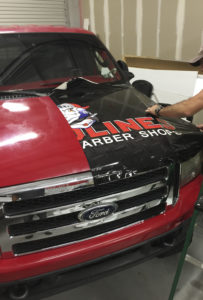 Take a look at the pictures in this article. This is a custom truck wrap that we did on a Ford F-250. The truck was lifted which gives it an extra cool look with the custom graphics installed. This was for a barbershop chain called Headlines, which is located in Tampa, Florida. We really enjoyed working with them and helping them on their project.
CPI (Cost Per Impression) is one way to measure the effectiveness of a marketing tool. It basically refers to the number of people who will see your sign, or any other product. Kind of like how many eyeballs you are getting to view the marketing.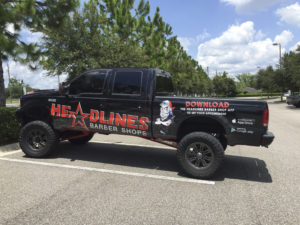 When it comes to vehicles – something that can move around and doesn't need to be handed out to be viewed by others – you can really get some great results.
It is difficult to calculate CP0I for vehicle graphics, since there so many people that could potentially see your vehicle wrap in any given day. But most reports say that vehicles in a normal to high traffic area get hundreds of thousands of oppre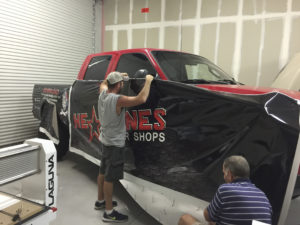 ssions in a year. And sometimes far more in the busier cities.
If you have any questions about vehicle wraps, just give us a call. We would be happy to answer any questions you may have, as well as provide a free quote if you would like one.
Written by: Signs Insight