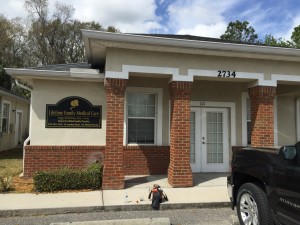 Product: HDU Sandblasted Signs
Location: Tampa, FL
Client: Stitch Niche and Lifetime Family & Urgent Care
If you are looking for a high quality sign that looks sleek and professional outside of your business or office, HDU (or high density urethane) sandblasted signs are a great option. We were contacted recently by a couple of different companies looking to have HDU signs created for them. Each of these companies were looking to have these signs placed in a similar area right on the outside of their building so their customers felt welcome upon entering.
In the photos, you'll notice that both of these signs are done in the same color scheme as are many of the HDU sandblasted signs that we create. The gold lettering against a black background has a more professional appearance than if we were to add different colors to the sign. Since both buildings are painted a very light shade, we knew that a black sign would stand out the best.
Using high density urethane has great benefits to it as opposed to using wood. The way that these types of signs are formulated give them the appearance of wood that has been carved and painted, but is more cost-effective and durable. The texture of these signs is that of very dense foam, and unlike traditional signs made from carved wood, are easier to carve into and there is no fear of mold. These signs will not break down over time or change texture when it gets wet and will be able to withstand any varied Florida weather conditions.
If you are interested in having HDU sandblasted signs or any other types of signage made, give us a call at (813)523-3128 or stop by our location in the Tampa, FL area to get more information. We use only the highest quality materials the industry has to offer. Let us show you why we are your signs and graphics solution!
Written by: Signs Insight