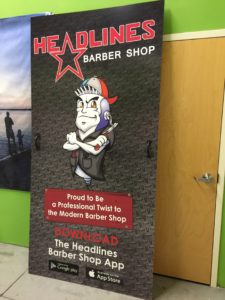 When it comes to marketing your business, there are a lot of options to choose from. Out of all of the options, from television ads to search engine marketing, good old-fashioned signs and signage products are still one of the most effective forms of advertising.
In the world of signage, there are about a million choices when it comes to options. One such product that we work with often are custom vinyl graphics that can be applied to various surfaces, from floors to walls to ceilings, and in this case, doors.
The picture in this article shows custom door graphics that we installed for a client of ours in the Tampa, Florida area. Headlines Barbershop contacted us to help with designing and installing these door graphics because they had worked with us in the past. We always enjoy working with them, and were excited to get the call from them again for another project.
Custom graphics, whether they are applied to a door, the ceiling, or a floor, are a great way to capture someone's attention. Without having to spend a ton of money, you can get a lot of bang for your buck in the form of signage that will stand out and get noticed.
For all of our graphics printing, we use high resolution digital printers that can create amazingly vivid images of anything from lifelike photos to extremely detailed custom graphics.
If you have any questions about door graphics, or any other kind of sign product, we would be more than happy to help.
Written by: Signs Insight