Vehicle Graphics and business branding
Mosquito Hunters Vehicle Graphics and Wraps: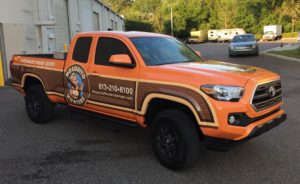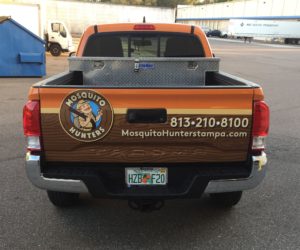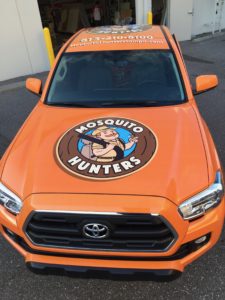 One of the most important aspects of running a business is to make sure you love what you do and that the people you have working for you feel the same way. Here at Signs Insight, we are extremely passionate about providing excellent customer service and delivering the best quality products that our industry has to offer. We also know that it is important to show off our skills when it comes to yours or our your own advertising. This is why we bought a new company truck and wrapped it with one of the reasons so many people come to us – our vehicle graphics.
Candamo Law Vehicle Graphics and Wrap: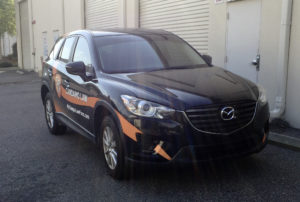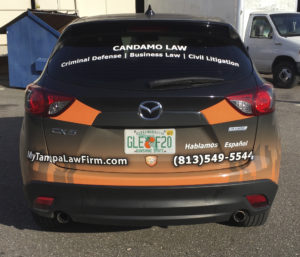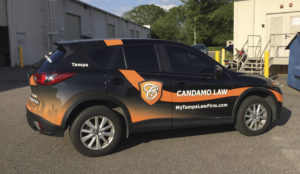 About wrapping materials
With the extensive experience we have with vehicle wrapping, you know that the end result is always sleek and professional. Using a high quality cast vinyl material to wrap the vehicle with, we can ensure that our product will stay put for a number of years. After the wrap had been successfully printed, an overlaminate was then applied over top of it for extra durability. Although the vinyl material is able to withstand years of wear from the environment and various types of weather, the graphics may be more susceptible to these conditions and may wear down faster. This is why the overlaminate is important.
Custom graphics for Jeep Wrangler: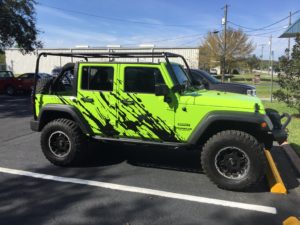 Be cautious when purchasing vehicle graphics and ask the right questions: do you use the proper materials for this job? All vinyl applications may look great right after the installation, but if the vinyl is not cast (best for wrapping), your investment may not last long enough and you will see the overlaminate and vinyl shrinking and detaching on the edges.
Company vehicles are one of the most effective methods of advertising. Imagine the amount of exposure you get when driving through traffic, or even parked on a full lot. They ake up for amazing billboards.
Since our new truck has been partially covered with our company's graphics and information, it has seen a great number of potential customers that may not have heard of us or ever passed by our location. Now, whenever people see our truck, they will think of us as the modernized signs and graphics company in which we designed the truck to represent.
Here you can see a few projects we did this week: horse trailer graphics, Candamo Law partial wrap, Mosquito Hunters full wrap, fun 4×4 Jeep graphics and our own truck.
Trailer Before Vehicle Graphics application: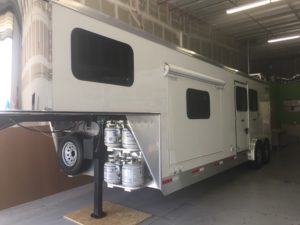 Trailer After Vehicle Graphics application: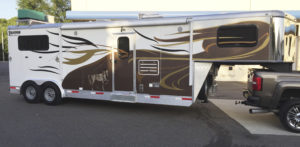 Contact us at Signs Insight for your vehicle graphics and custom signs
If you are looking for the absolute best in signs and graphics in the Tampa area, look no further! We will create customized products that fit your needs. Simply give us a call at (813)523-3128 or visit our website at signsinsight.com.
Signs Insight Truck: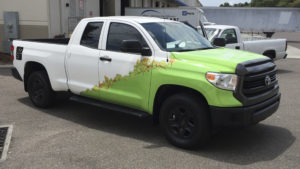 Written by: Signs Insight